November 11, 2005


A March '05 publication by the US Army confirms that US soldiers used white phosphorus offensively in the Battle of Fallujah. This directly contradicts statements made by the U.S. Department of Defense and by the US State Department.
The new discovery also backs up the allegations made in an Italian documentary screened this week concerning the use of white phosphorous in Fallujah. (See http://www.scoop.co.nz/stories/HL0511/S00143.htm )
The broadcast shows video of a U.S. helicopter repeatedly raining down a bombardment of white phosphorus across Fallujah at night. The U.S. State Department had previously released a statement categorically denying all use of white phosphorus during the battle of Fallujah except for illumination purposes. This confirms several firsthand reports from news sources at the time of the invasion.
In the video, Jeff Englehart, a Marine who served in Fallujah and who maintains a weblog at http://www.ftssoldier.blogspot.com , claims that there was widespread, indicriminate use of white phosphorus in last year's attack on Fallujah.
The white phosphorus hits and disperses into an indiscriminately lethal cloud with a kill zone approximately a quarter of a mile wide -- over a tenth of a mile in all directions. Although white phosphorus often has no effect on clothes, when it makes contact with a person's skin, it will burn it down to the bone. If the gas is inhaled, it will blister the throat and lungs, causing rapid suffocation, burning the body from the inside.


Englehart heard officers approve requests for use of white phosphorus on a wide scale throughout the assault.
"It comes across the radio as a general transmission... we have speakers in our trucks. 'We're going to drop some Willy Pete.' 'Roger. Commence bombing'"

"We were told going into Fallujah that every single person going into the combat area that was walking, talking, breathing was an enemy combatant. . . It seemed like just a massive killing of Arabs. It looked like just a massive killing. . . Burned bodies. Burned children. Burned women. White phosphorus kills indiscriminately."
Englehart also reported that the invasion of Fallujah was intentionally delayed by the Bush administration until after the election.
"It's was definitely the case. Even in the military ranks, we knew what was going on. They told us..."
Here is the story on artillery use from the March/April edition of the US Army's "Field Artillery Magazine" :
http://www.scoop.co.nz/stories/WO0511/S00185.htm
The relevant mentions of white phosphorous in the article:
The munitions we brought to this fight were . . . illumination
and white phosphorous (WP, M110 and M825), with point-detonating (PD), delay, time and variable-time (VT) fuzes."

"WP proved to be an effective and versatile munition. We used it for screening missions at two breeches and, later in the fight, as a potent psychological weapon against the insurgents in trench lines and spider holes when we could not get effects on them with HE. We fired "shake and bake" missions at the insurgents, using WP to flush them out and HE to take them out."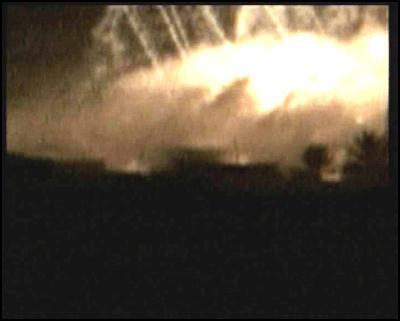 What the article does not say, however, is that there is no way you can use white phosphorus like that without forming a deadly chemical cloud that kills everything within a tenth of a mile in all directions from where it hits. Obviously, the effect of such deadly clouds weren't just psychological in nature.
This claim of "shake and bake" is further confirmed in a news article by an embedded journalist at the time. See http://www.nctimes.com/articles/2004/04/11/military/iraq/19_30_504_10_04.t xt
"Bogert is a mortar team leader who directed his men to fire round after round of high explosives and white phosphorus charges into the city Friday and Saturday, never knowing what the targets were or what damage the resulting explosions caused. . . they ran through the drill again and again, sending a mixture of burning white phosphorus and high explosives they call "shake 'n' bake" into a cluster of buildings where insurgents have been spotted all week."
This directly contradicts a previous US State Department statement, (archived at: http://www.scoop.co.nz/stories/WO0511/S00186.htm) , that WP was used "very sparingly in Fallujah, for illumination purposes".
Video of the Italian broadcast, which made the original claims, which is online at: MIRROR 1 and at MIRROR 2